Any time someone stumbles upon a winning formula, it's bound to be repeated. The release of
Wolfenstein 3D
was the beginning of the first person shooter genre in the gaming world (ok, dorky example, sue me); boybands and teenage divas seem to rise and fall, but the winning formula of catchy, manufactured lyrics and saccharine, airbrushed good looks never fails. Judging from the steady increase in visitors to her blog,
Xiaxue's
rise to blogging stardom has been no fluke - there's definitely something going right in the way she maintains her online journal. Some might argue that it's all about her controversial, in-your-face, yet identifiably Singaporean style of writing. Some might argue that her success is due to her photoshopped good looks. Others may argue that she just instinctively knows how to court an internet audience.
Whatever the case may be, the fact remains that there are tonnes of blogs out there, and loads of attractive, young, female bloggers whose day in the sun may be just on the horizon. Who knows? With a couple strokes of internet fortune and a little time, we could witness the emergence of more blogging superstars in the mould of xiaxue. In fact, it could be argued that some bloggers like this exist already, waiting to be discovered. They may have been surf-stopped by
Mr. Miyagi
; some of them may have even been
brown-ed
, and one day, we could find ourselves worshipping the ground they blog on.
Today, bigfuck.blogspot.com takes you through a couple blogs which (in my, ostensibly bloated opinion) are on the up and up. While they might not be imitating xiaxue, and might even (in some rare cases) hate her, these blogs are drawn together by a couple common qualities:
1) Attractive, relatively young, female owners. While this is obviously not a prerequisite for blogging success, it definitely helps the cause of the website in general. I mean, who doesn't like looking at pretty girls? Even straight girls like looking at pretty girls. Related to this is:
2) Lots of pictures, particularly pictures of their sexy, sexy selves. If you've got it, flaunt it; there's something about a blog full of pictures of an attractive girl that you read about that makes mens' ... err ...
hair
stand. Nothing reminds you that you're reading a pretty girl's blog like seeing pictures of said pretty girl. I'll be the first to admit; it's pretty hot.
3) Engaging writing style. Even the most attractive pictures in the world could not make up for utterly braindead writing. There has to be a tangible person behind the writing. This is fairly self-explanatory.
4) Some semblance of a real life, and the willingness to share the juicy details online. One of
xiaxue's
best blog qualities is that she comes across as, above all, a real human being ... one that some talented punter might impress, or even, if he gets
really
lucky, get to meet. This is made possible by the fact that she blogs about her life, and you don't get the feeling that she's holding back. What could be more attractive than that?
There are a couple more minor points, but those are the main ones, and I've rambled on enough already. So, here we go, some blogs that could possibly be immensely popular in the near future:
DISCLAIMER: In case you guys were wondering, none of these ladies knows about this post as of yet, and I'm probably a little too lazy to tell them about it. Hopefully none of them mind, or think I'm a stalker. Then again, not like I really care either way. Whatever.
My tusheez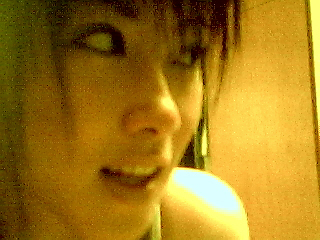 Silly or not silly, celly's definitely a babe.
After being a relative unknown in the blogging scene, things are starting to come together for Celly. Her
post on the importance of appearances
has gotten her linked by
mr brown
,
mr miyagi
, and
Cowboy Caleb
, among others.
Amidst rocketing traffic on her blog, Celly has continued to churn out amusing, humourous, and occasionally scatalogical entries that have kept her readers entertained and subscriptions to her blog on the up and up. She may be crass (like any of us care) and she may be a little flighty, but that's just part of her charm. In a year or two, I wouldn't be surprised if Celly's stock on the blog market goes through the roof.
Appeal: Anyone willing to wade through a barrage of "fyucks" (yes,
fyucks
) and KNNs to read about shits (wombat and human), genitalia and other finer things in life.
Picture Watch: Celly isn't afraid to look silly in her pictures, but she keeps those webcam shots coming, and the vast majority of them look damn fine.
If She Were Queen: We'd do our kegels,
kebois
, occasionally cuss in Japanese, and be damn happy about it.
wurh.com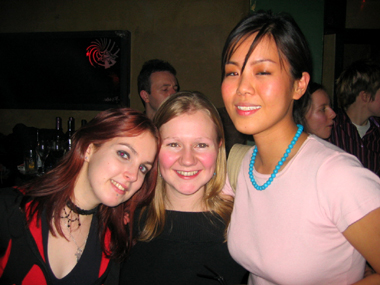 ci'en exudes cool, and epitomizes hot
Wurh.com
has been in operation since mid 2004, and it's definitely gathered a following of its own. Ci'en is obviously one of the smarter cookies on the blogging scene, as evidenced by her flowing prose and the fact that she's reading law in Bristol (don't harass her guys, she might SUE you then you know!). She's eloquent, poised, and armed with her trusty digital camera; her
photolog archive
is worth a visit, even if it doesn't contain a single shot of her fetching self.
Ci'en also frequents a whole slew of concerts; fans may be interested to know that she's heading off to
Glastonbury
. As if seeing class acts like
Massive Attack and Portishead
wasn't enough. If you're reading this, miss, let it be known that we're all jealous.
Apart from being surf-stopped by Mr Miyagi a staggering
three times
,
wurh.com
is currently number 19 on
Rice Bowl Journals'
Top 100 list. Ci'en has also been quoted on their site, something she
reckoned
was "the closest thing to blogging glitterati" she's going to get; who knows, Ci'en, your star may be ascendant.
Appeal: Anyone who appreciates well written prose and the occasional barrage of concert pictures. It seems that this site oozes cool, so be prepared to get your cyber-hipster-wear out. Or not. Whatever.
Picture Watch: While you might have to wait for pictures of the woman herself, when they come, they're worth the wait. I think she looks particularly fetching in
this
series.
If She Were Queen: We'd listen to better music, speak better english, and all be on the next flight to Britain.
Air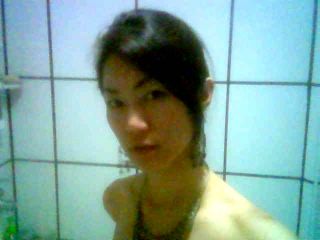 Linda Chia is a swinging single, we wish we could get in the swing with her.
While 20-something Linda Chia
confesses
not feeling young any more, she's still definitely indulging in the vices of youth, smoking a little too much, enjoys the occasional drink, and is even working towards her
motorcycle licence
. She might feel the clock ticking down on her days in the sun, but this doesn't mean she's looking to call an end to singlehood and settle down. She enjoys her independence, and damn it, she's going to make it last.
We first saw Linda during the
sexyblogger
craze; Mr Miyagi, with his knack for sniffing out beauty, put her picture up in one of his
posts
. While her blog counter hasn't exactly been jumping jumping, it sure deserves to be, given her intensely readable musings on life, motorcycle practicals and the indicators that she's not exactly a teenager any more. Fans will have to be forewarned though; she's not easy to impress. Firstly, she's constantly surrounded by attractive men, and remains immune to their charms. Next, she lives with a motorbike racing champion.
Not that that should stop any of you from dreaming, of course.
Appeal: Anyone who appreciates the slightly more mature, considered sort of blog. People who can't stand young punks.
Picture Watch: There seems to be a pretty consistent flow of pictures about this site. And yes, they all look good.
If She Were Queen: We'd all have to get on our bikes.
Sandralicious
Photo updated at Sandra's request; anything to make you happy, dahling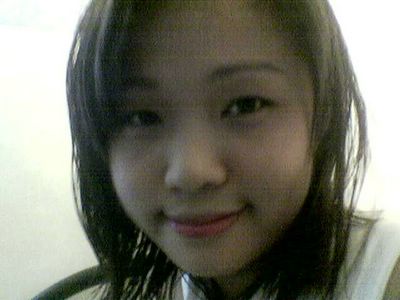 She's too sexy to care, but we forgive her
Sandra Ng is fresh out of Ngee Ann Polytechnic, and has a pretty, pink blog. There are a couple things about this blog, though. First, there are no comments; all electronic slobbering (including mine) must be put on Sandra's tagboard. Furthermore, it seems that the archives have mysteriously disappeared. Being the clever gal that she is, though, I'm sure she'll have them up and running in no time. Being the clever guy that I am, of course, I managed to hardwire the link for them. You can see
February
here, and hopefully figure out how to get beyond that yourself.
Anyway, Sandra is sweet. She likes cute furry animals, and makes food for her friends and family. She's so sweet, she even had a stalker. This obviously did not amuse Sandra (nor should it have). With looks like hers, though, it's no wonder. Sandra, unlike every other girl as attractive as her, was not featured by Mr. Miyagi. Her only claim to fame was a brief listing in the
sexyblogger
meme. Nonetheless, she's definitely worth a whirl, and she's single to boot. Apparently, though, she already gets scores of emails asking her out, so those tactics won't work. To get this girl's attention, fans will just have to do better.
And no, we don't mean stalking.
Appeal: Those who love sweet, cute girls. Don't we all? Yes, yes we do.
Picture Watch: When you get to the site, there are a whole bunch of pictures waiting for you down the sidebar. Sandra says 'A Picture Speaks a Thousand Words'. I say those words are all somewhere along the lines of 'hot'.
If She Were Queen: The world would be a better, nicer, pinker place for it.
Alright, that pretty much concludes this installment. It's tiring work, reviewing blogs; here are some of the blogs I shortlisted, just in case you're wondering:
Out of My Mind
; while Joewei seems like a veritable babe, her tendency to swirlify her face makes it impossible to verify. Worth a visit, though.
Shelly Lives
; You've seen her brown-ed, but the fact that this girl is married puts her too far out of the available bracket, in my opinion. I could be wrong though, and you could get beaten up by a commando. You're free to browse wherever.
amnezia's xanga
; she's definitely cute, but the pictures are just a little too scarce. Besides, she apparently has a boyfriend, and that's never fun, is it.
Bohemia Bunnie
; while even Cowboy Caleb was smitten by her, the fact that you have to cycle between lynn's photoblog and
other blog
is just a little too challenging for this cybersurfer.
Note that this is by no means an exhaustive llist. You can always email me recommendations; I'm always up for a good, you know,
read
.