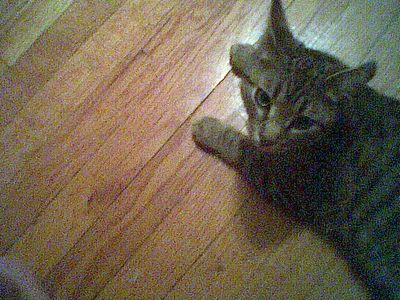 So, is there some bizarre connection between women and cats? I have a couple friends who have cats; strikingly, all the cat owners I can think of are female. I'm sure I have some male friends who own cats, considering the number of guys I hang out with, but then, it seems to me that girls with cats are much more likely to turn into crazy cat women, calling their cats their 'babies', fussing over the cats all the time, taking pictures of their cats and so on. This, it seems to me, is highly unhealthy.
While cats are kind of cool, they are not your babies. These furry purring things did not come out of your wombs, alright? They are cats. Cats are animals, not humans. It's bad enough that new mothers shower us with pictures of their teeny tiny babies who can't even open their frigging eyes; some people, however, insist on showing us pictures of their MOTHERFUCKING CATS! Holy fuck! I want to step in and tell these ridiculous women to wake the fuck up and have some real babies instead, because then at least the fuss would be goddamn worth it. I mean, seriously.
I know, cats are damn cute. I like cats myself. Don't these girls know, however, that they're headed down the path towards becoming crazy cat ladies? It's insane! Insane, I tell you!
A couple weeks ago, my roommate begins asking me if I would be ok with us having a cat. Now, I actually kind of like cats; I think they're cool. What I'm not crazy about, however, is the idea of having to clean out this cat's shit and whatnot. However, my roommate's voice, the way she talks about cats, as well as the way she fawned over my friend's cats when I was taking care of them, all lead me to the conclusion that my roommate is a potential crazy cat lady in the making. I know better than to separate women and their prospective pets, so I sort of pussyfoot my way around the issue, in typical, grunty, non-committal fashion. I think I've mastered the 'whatever you want' grunt.
Random Person: "Is it ok if I [here I blank out]"
Me: *grunt* *mumble*
Random Person: blahblahblahblahblah?
Me: Yeah. Sure. Whatever.
This enables me to get back to my main occupation, namely blogging / playing Grand Theft Auto.
So, yesterday night, my roommate comes in with her parents (who were in town for the weekend) and a cat.
"Hey ... I got the cat."
Notice it is now
the
cat, instead of
a
cat. This is the first sign of cat-lady-itis. Seeing as to how the cat ran into my room and hid under my computer, the 'I got a cat statement' was also an exercise in stating the obvious. I don't think I was ever formally introduced to the cat, in that she didn't tell me its name (or she might have, but I wasn't listening); she sort of expected me to know the cat's name automatically, since I am now living in approximately the same space as this furball. Anyway, the cat's name is something ridiculous sounding, and it starts with a T ... Taytawhatthefuck or something like that.
I refuse to call the cat anything but xiao mao, and I speak to it exculsively in chinese. You may ask why. Well, I hate it when pets get stupid pretentious names. You know, those obscure foreign names with lots of strange, misplaced consonants, like 'Syskikkyylll' or 'Tylananana' or stupid shit like that. Why don't people name their pets normal names like 'Bob'? If you want to give your pet a stupid polysyllabic pet name, why not call it 'enema' or 'constipatia'? That way, at least the whole world will know you have something stuck up your ass.
Seriously, though, when naming pets, try something that doesn't sound stupid and pretentious, like 'the rocket dog' or 'super awesome mutt' or 'fluffy'. These are all cool pet names, because I've either heard of them, or readily understand what they mean. My godparents named their dog 'sui sui', because they said (in chinese) that they were very 'sui bian' in giving the dog a name. I think this is an awesome pet name. Taytablahblahbullshit, on the other hand, is a far inferior name to something simple like 'cat'. I mean, for crying out loud, it's a cat, right? I love cats named cat.
Other than that, though, to be honest, I kind of like the cat, and I think the little guy kind of likes me. He spends a lot of time in my room, trying to gnaw at cables; I tell him he's a stupid cat and tell him to stop it, but the stupid cat doesn't understand chinese, I think. Stupid cat. I suppose he likes me because we're up at the same ungodly hours. Here's a picture of the cat making a jackass of himself: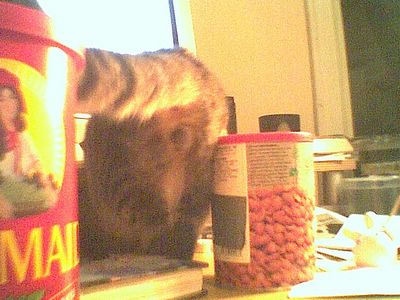 Yes, the cat likes climbing all over my desk. I was typing, and the cat seemed to be amazed to see words on the screen. I was watching the cat, and then I got an idea. I opened up paint, and painted a cat on the screen. Holy shit, the stupid cat flipped the fuck out. It started meowing and pawing at the screen. I had to close the picture, because I didn't want the stupid cat scratching my monitor. I wonder what it'll do when it sees the webcam.
Oh yeah, that's right, it'll chew at the cables. The stupid cat loves chewing at cables.
You can't hold these things against cats, though, because at the end of the day, cats are cute. The little guy loves hiding around my computer. Perhaps he likes it because it's dark and cozy. Or maybe he just loves having all those cables.
'Oi, cat, stop chewing at my fucking cables!'
Ok, now he's on my backpack, getting ready for sleep: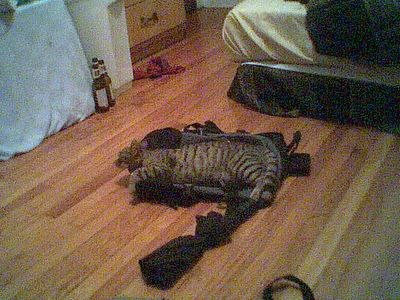 Yeah, he's cute, I cannot deny this. I just wish he'd stop chewing at cables and learn some chinese already.
I'm going to endeavour not to write any more about the cat, lest I become a crazy cat guy.
Today's Blog Babe:
warnjai
; another xanga, with another bunch of pictures. Whoopee!
With Regards to Yesterday's Entry: I'm not really sure what's going on, and if it's a false alarm, but it seems that my family might be relocating or something like that. It was just big news to me, and left a lot of things to be considered. If you're interested in the details of that, you can always email me. It's not that big a deal, though. Thanks for expressing concern and whatever (yes, all 6 of you)