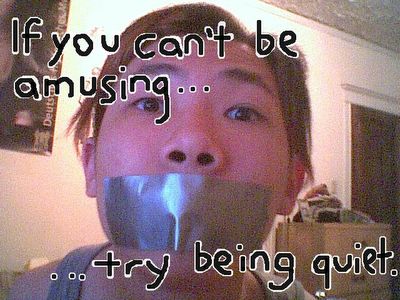 So, I started reviewing blogs for
the weblog review
today. I figure that while I might not exactly be a world-famous, top-quality blogger per se, I'm pretty good at telling good blogs from crap blogs. Man, reviewing blogs is kind of tiresome. Due to the fact that I feel like I owe it to the bloggers I review to read through at least 60 or 70 percent of their entries before pronouncing judgement, I found myself trudging through banal comment after banal comment, wishing that someone would come along and shoot me because my brain was going numb from the sheer repetitiveness of it all.
Again, let me state that I have nothing against the people who write mundane blogs. I figure it's your right to write stupid, wankathon blogs about your mundane, wanky life, and share them with your wanker friends if you so choose. What I absolutely cannot comprehend, however, is why these people, who are ostensibly (I love that word, ostensibly) writing about their personal lives, choose to submit their sites to
the weblog review
. What are they hoping for? Are they hoping that a reviewer will find their writing style exquisitely beautiful, and bring publishers to give them a book deal? Are they hoping that they will have a sudden influx of readers taking an interest in their mundane-ass lives? Or, perhaps, here's my favourite theory - perhaps they're hoping that people reviewing their blogs will tell them, 'hey, so-and-so, your life is cool! You are cool! Hey, so-and-so, you rock!'
Seriously, man, this shit is not going to happen. Here's my advice; if a typical entry in your blog is something along the lines of, 'wah...today was XXX event, I went with A and B and C. it was fun / not fun / funny / totally boring / the most amazing thing I've seen since the last amazing thing I saw' or 'today I saw this movie, it was good, too much violence, blahblahblah' - yeah, if your blog consists of nothing more than this sort of thing, and perhaps the occasional quizilla result, you are, in all likelihood, writing for yourself and your friends. Do as all a favour, and keep your blog to your little circle. Occasionally (and I mean,
very
occasionally), you will come across bloggers who relate their experiences in an engaging, thought-provoking, and, if you're lucky, amusing way. However, you don't swing this by writing two line entries about how your day went, and you CERTAINLY don't achieve this by being long and tedious.
Here are my tips for making your blog bearable to an audience who does not know your friends, does not know you, and does not know why they should read your blog. I know that several 'how to blog' guides are already out there, but, if you're thinking of getting other people to read your blogs, here's a little checklist:
1) For the love of all that is good, edit your posts.
I admit, I'm not exactly the best when it comes to doing this, but seriously, it would be great for blogging if people at least gave their entries a once-over before posting them. Keep your entries as short as they possibly can be. I like to rant, but then, I'm an angry guy like that. At least I skim what I've written a couple times before I post it. If you can't even be bothered to read what you write before you post it, don't expect anyone else to be bothered to read it, either. Except your wanky friends, of course.
2) Throw in a picture or two, if at all possible.
Again, there are exceptions to this, but unless you write really well, (and I mean
really
well), it always pays to throw in a couple of pictures to break the monotony. Nothing's more intimidating, and frankly annoying, than a shitload of words. What, you think people don't read enough at school / the office / on road signs, is it? Please, everyone here can read. That's beside the point. Spare us your monologues.
I know, I get wordy. But hey, I think I write
really
well. Sue me.
3) Don't offend me with your goddamn template.
If you don't know what I mean, read
this
entry by me, or
this entry
by the
calm one
or
this
entry by
Adrian
. There you have it, 3 fairly good bloggers agree: a lot of sites have sucky templates, and should never see the light of internet day. If you have one of these sites, don't spam your friends tagboards with demands that they link you; don't advertise your site all over the place. Change your template to something manageable like minima, then grow a brain.
Ok, those are just the basic, basic, basic things I can come up with off the top of my head. The underlying principle behind all this, however, is simple - there are two types of blogs - blogs which actually take into account the fact that they are written for other, reasonably intelligent human beings, and blogs written for giggling pre-pubescent morons; before you think about plugging your blog, therefore, it would help a GREAT DEAL if you were to reflect on whether your blog was worth plugging in the first place.
That being said, I suppose I have to grudgingly respect self-confidence. Thus, I am plugging the following blogs. Read them if you will:
Following my
Xiaxue Killers
post, lots of people have been asking me to feature blogs with good-looking guys in them. Seeing as to how I don't give a monkey's backside whether a guy is good-looking or not, I am unable to recommend any. However, I was going to chinatown the other day with a friend, when he said something to the effect of, 'eh, I'm quite handsome what, feature me, lah.'
I've heard some female friends actually saying this guy is fairly handsome, so I suppose there's no harm. Go
see
for yourself, lah. Oh, and I think he was actually joking, so I'm totally sabo-ing him here. I'm such a good friend, hor?
The other volunteer I have actually used the age-old 'Hi, I linked you' ruse - bloggers like me like being linked. I almost always check out blogs which link me. When I checked
this
blog, however, I found that it's owner had
nominated
himself as one of the potentially up-and-coming male bloggers. I have no comment. Except perhaps that shamelessness is damn amusing to me. In a good way.
Finally, I have to plug my
teaching assistant's
blog, because she's trying to get money to pay for something she bought very foolishly or something. I'm plugging this blog totally because I think this is a worthy cause, and
not because I think she will give me better grades if I do nice things like this
(Heh, heh). What type of guy do you think I am, anyway?
Ok, sorry for going on like this. I will stop now.
Today's Blog Babe:
Angela
; I think there's some background music playing somewhere on this site, but given that I find the song relatively unannoying, I'm willing to let it slide.