Long Tongues are the Essence of Sexy
Ok, I got a couple comments regarding pictures of myself. This made me think of pictures. Hence, I'm going to bombard all of you with my pictures. I think this is awesome. You are free to disagree with me, but hey, at least I like how I look, and that's half the battle. After all, it's been scientifically proven that thinking you look good makes you look better, right? Obviously, I must be correct.
Why the pictures, you ask? Well, I've decided to show my allegiance to the Singapore blogging community and post my 'too sexy for my blog' picture (if you don't know what this is about yet, read
Mr. Brown
or
xiaxue
for the low-down on this); check out my amazingly long tongue:
Wah! What a long tongue! I know, all of you females out there must be ridiculously excited. Others will be thinking, who is this joker? Gene Simmons? The cow / horse headed demon from hell? What a scary looking tongue! In the interests of all you people, there is a more conservatively lengthed tongue as well (yes, I can retract my enormously long tongue on command, thus making it even SEXIER!):
I also included a version where I used the mood lighting to create an effect of extra sexiness: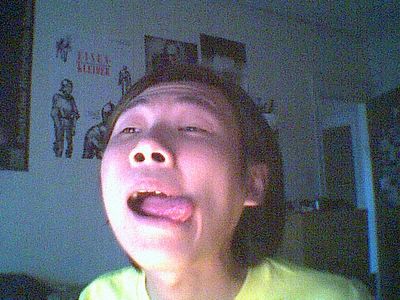 Ok, that looks more like something out of a horror movie, I know. Nobody would want to be friends with someone who looked like that, right? Just in case all the hot girls reading this are scared of me now, let me remind you that I actually look like this:
Ok, I'm obviously fooling around here. Sunglasses, I feel, automatically make you look cooler. The same, however, cannot necessarily be said for the whole hand thing. You know, that hand thing. What the hell is up with that? Is it a gun? Is it a seven? Are you trying to turn your fingers into a picture frame for your face? None of this makes any sense to me, except that people think it makes them look cool. I suppose it might make you look cool, but it's more likely to make you look like a dumb shit who thinks his fingers can shoot lasers. Which they can't. Unless you're me. Which you aren't.
On this subject, however, funny poses I see people (especially us Asians) doing sometimes really crack me up. Having rediscovered the joys of my camera, I shall model a couple. There's the classic V-sign:
Every mother father cow pig donkey in Asia (ESPECIALLY JAPAN) has done the V-sign, or the peace sign, or whatever you want to call it, in a picture. Here are some examples I have found:
Exhibit A: Asian male with V-sign
Exhibit B: Asian female with V-sign
Exhibit C: Big-time Japanese politician with V-sign.
See? EVERYONE does it! Why? What does it mean? Is it a wish for peace? A sign of victory? When I was working in Tokyo, I asked my co-worker at the orphanage why Japanese people all seem to like making the peace sign.
Me: Why does everyone in Japan make the peace sign?
Him: What?
Me: You know, the peace sign?
Him: Peace sign?
I make the signHe makes the sign.
Me: Yeah, that sign.
Him: I don't know.
Upon further questioning, the best answer I got was, 'sometimes Japanese people don't know what things mean, but just think they look cool.' I got that answer about a shitload of things I asked about in Japan.
Another sign that seems to have been co-opted is the whole 'rock out' sign, except Asians seem to need to do it with two hands (since one is not enough):
The scowl is, of course, necessary to make you look cooler. Or constipated. They might just both be the same thing. Alarmingly, I have seen a variation of the 'double rock out' pose which involves crossing your hands as well:
No kidding; I've actually seen a bunch of people posing like this. I have no idea what they're thinking. Can't people just take pictures normally? The 'crossed rock out' pose, naturally, stems from both the 'double rock out' and the 'ultraman' pose:
Ok, actually I think the ultraman pose is kind of funny.
That's enough modelling now, I suppose; I know, all of you must be wondering, 'wait a second - how did he take pictures of those two-handed poses on his webcam? don't you need a free hand to click?'
Ok, maybe none of you were wondering that, but for those of you who were, I applaud your perceptivity. You will go far in life. Or, at least, further than all those casual bastards who didn't think about how hard it is to put this goddamn blog up. Yeah. Anyway, note the strange angle I've been posing at for these double handed shots:
I now adjust the camera so that you can follow my body and ....
TADA! Yes, that is indeed my foot, controlling the mouse. See what lengths I go to for you guys?
Alright, that's obviously enough silly pictures for a day. I'll now leave you with an extremely serious group photo I took with my friend, Randy, the ear-cleaning rabbit:
Alright, I'm out. Later, people.
technorati tag:
sexyblogger