So, I finally get the notorious musical baton that's going around, a full week after
Mr. Brown
gets it. A week, in blogging time, might as well be ten billion years or something, because now the whole musical baton thing is as old as Michael Jackson's original face. As far as I'm concerned, I could do the whole musical baton meme, which would, in essence, be saying, 'look at me, I have nothing better to post, I'm taking the easy way out' or I could just give this whole thing a big fuck style 'fuck you' and tell the whole phenomenon to kiss my ass.
See, when
adrian
tagged me (and, like, eight other people or something), I figured, meh, he tagged a whole bunch of people, so I can just sit this one out and ignore it. Then one of my real life friends,
the mysterious mr. elia d
, goes and tags me as well. So now I can't ignore this whole thing. Motherfuck. The big question is, how did this meme get so fucking huge? How is it that everyone loves talking about their music / music collections so much? What the fuck does it say about you? I have no fucking clue.
In my opinion, it all boils down to the same thing. A digital dick measuring contest. You say you have 15 gigabytes of
pirated
digital music on your school computer? I have 35. Yes, that's right, 35 gigabytes of music - and that's only on ONE of my hard drives, and not counting my 20 gigabyte
iAudio M3
, or the music I have on some dusty hard drive in Singapore, or my dvd libraries of mp3s, which I have a whole bunch of, because my hard drive is only so big. I have a shitload of music. I thus win, because my digital musical dick is fucking huge. Hurrah. How many days of music is that? Many, many days; I tried to cue them all in winamp, but my winamp crashed. That's how much music I have. Kiss my ass.
You know, to be honest, I hate talking about music. While I like listening to
GO!GO!7188
and stuff like that, I always feel like I'm being pretentious and deliberately obscure when I talk about music. I suppose I've been hanging out with hipsters for too long, and can't shake the habit. Sue me.
So, yeah, talking about music is a little too touchy for me. It's like trying to establish a sort of street cred - to show you're cool, to show your taste isn't shit, or just to establish some sort of individuality. I already did all that nonsense with my post on the flim meme on my
livejournal
. I'm a music snob. I can't help reading about what other people listen to and thinking, 'shit, that's crap music. what a dickhead'. I'm therefore not going to give anyone the opportunity to judge me. Besides, I'm not going to do a meme a whole week after it's hit the Singapore blogosphere - who the hell do you think I am? Next time someone wants to hit me with a meme, do it early, unless you're a
blogebrity
(c-list also can), in which case you can hit me any time, baby.
Finally, the whole business of passing batons - it's all about the politics, isn't it? For example, say some no-name, never-heard-of dude tries to get me to do a meme. There's probably no chance in hell I'm going to do it. Say
mr brown
requests your meme participation - now, that's almost guaranteed to get at least a reaction, right? To be honest, I feel slighted by the whole internet. Getting a meme late is like not being invited to that crappy party you weren't planning on going to - it's like the whole internet is saying to me, 'hey, you know what? You're not cool enough for the musical baton party. Fuck you, big fuck.' You know what internet? Here's my response: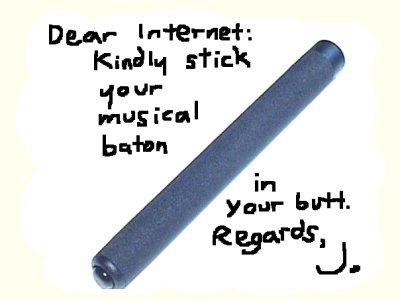 Alright, that's all I have to say about the musical baton. Now I'm going to go play video games again.
Oh, almost forgot! Today's Blog Babe: jctang, from
Shortphat K
;
apparently, she doesn't like being blog babed, so the link is taken down. I figure it wouldn't be fair to just put another blog babe up for half a day, so I'm going to leave this post like this. Ok.