So, all that stands between me and ultimate irresponsible mayhem (well, for about two days or so before I have to start with all the end-of-year-administrative bullshit) is a final on thursday which, to be honest, I'm not very motivated to study for. I'm tempted to email the prof, cite domestic troubles, and take a pass/fail in that class; I probably won't do it, but man, I have to say, it's tempting.
So anyway, I was watching the motorcycle diaries yesterday, and there's this part where Che and his buddy are at a leper colony; I was watching this with my ex-roommate, and we had a brief exchange over the scene, which I have paraphrased for your reading pleasure:
Him: Dude, you know how much leprosy sucks?
Me: Yeah man, bits fall of you and shit. It sucks.
Him: So, Jesus spent time with lepers too, right?
Me: Yeah, he healed them and stuff.
Him: Yeah right.
Me: What, what do you mean, 'yeah right?'
Him: He didn't heal the lepers.
Me: Yeah he did.
Him: Dude, it's leprosy.
Me: He fucking healed the lepers, alright?
Him: Why, because it says so in a book?
Me: I happen to believe that book is the word of God, alright? Are you trying to piss me off?
Him: It's still a fucking book.
Me: Dude, this seriously offends the shit out of me. You should know that this sort of talk pisses me off.
Him: Yeah, I know, it's the one thing that pisses you off.
Me: Seriously, man, what the fuck, dude.
Him: Ok, fine, fine, he HEALED THE LEPERS.
Me: That's right. He fucking healed the lepers.
Him: Oooh! Looky at me! I'm Jesus, and I'm healing the lepers because I'M MAGIC
Me: You're such a fucking asshole.
You know, I might not be the best Christian, or even a very good one, but I still tend to get pissed off when people tell me my personal lord and saviour is a fraud. If I were the lord almighty, and I didn't know that my ex-roommate was, in general, a cool guy, I would throw him in the lake of fire out of spite. Naturally, this is a bit of a stretch, given that an almighty god would also be omniscient and stuff like that. I suppose that, all things being told, God is also less spiteful than I am. If he isn't, well, we're collectively fucked, ladies and gents.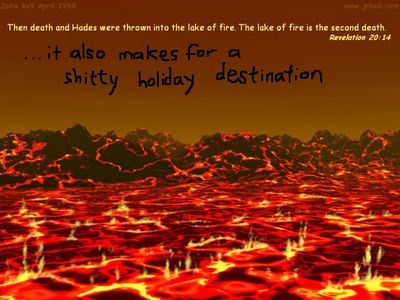 Is it just me, or is there very little love for Christianity on the net these days? I mean, I've seen all the 'I love Jesus' blogs (and, to be honest, I don't really read most of them) but, aside from the blogs that are openly Christian, like, 24/7, it seems that there's a lot of blogs with very little nice stuff to say about Christianity in general. To be fair, I don't care whether my beliefs are in vogue or not; I don't believe in God to please people. All the same, though, it'd be nice to read a little less, 'oh, Christians suck because they think everyone else is going to hell,' or 'evangelists suck because I dislike people telling me what to believe'. If I was a better Christian, I'd be an evangelist, too, you know. I remember when I was a little kid, my faith was founded exclusively on a fear of hell. I used to try to get my friends to believe in God, just so they wouldn't have to go to hell, you know, when we all died and stuff. Now, of course, I realize that, even if most of these friends went to hell, I probably wouldn't remember them.
Yes, that's right, I'm not a very nice person all the time. In fact, sometimes I'm an asshole. You know what, though? I didn't make up the rules of my faith, ok? I believe God did. I'm not a perfect dude as a Christian, I'm just, you know, a forgiven one. Don't give me the whole 'what if a mass murderer repents and blah blah blah what about good people, benevolent God, etc, etc,' and all that nonsense. If it were up to me, everyone I liked would go to heaven, and everyone else would get stuffed come judgement day, because hey, I'm selfish like that. Just so you know, though, the last time I checked, I wasn't God. Faith, as far as I see it, is a stretch. I'm believing in something I can't see, don't necessarily know exists, and believing a whole bunch of definite properties about God which we may never be able to prove one way or another. Given that I signed up for the package deal, rather than the simple 'get out of hell free' card (which, I'm told, might not even necessarily exist as an independent offer) I figure that, unfortunately, I am doomed to believe that some people will go to hell. Isn't it more comforting if the people who fill hell, therefore, are those who didn't make the same religious gamble as me?
I just checked again. Nope, still not God. Don't bitch at me about the rules, alright? I didn't make them, I just believe them. I can do that, can't I?
Today's Blog Babe:
Amelle
; oh, if you guys have noticed, it is June, and I have yet to replace my blog babe of the month. First, I've gotten really shit few applicants. At this rate, I figure I will stop this whole fiasco, especially if applications don't pick up. No girls want free advertising? Can get a LOT of hits, you know! Whatever, lah.