I really like chai tow kway. Chai tow kway is, without a doubt, one of the things I can eat almost all the time. Unfortunately, I live in Chicago. There is no such thing as chai tow kway here. If I wanted fried chicken, I could eat that. If I wanted deep dish pizza, I could eat that. If I wanted chai tow kway, though, I'd be a little screwed.
One of the things about chai tow kway is, as far as I'm concerned, it's really bloody hard to make at home. Maybe one of you have a great recipe or something, but making nice chai tow kway requires, well, first of all, the cake itself - you know, that mix of radish and rice flour - I haven't seen that around anywhere in Chicago. Then there's the radishes themselves, which add flavour to the mixture. Fresh prawns are also bloody hard to find here.
So the question is, what do you do when you have a sudden, inexplicable craving for chai tow kway at 4.30 am in the morning when you're thousands of miles away from the nearest hawker centre?
The answer is, you improvise.
Ok, actually the more common answer would probably be 'suck thumb', but hey, I'm a creative guy. Seeing as to how this is my third year in Chicago, I've long since learnt that I'm probably never going to get my favourite foods from back home the way I like them, but hey, you can always make something that's sort of in the same area, right? I've found that some times, when you can't substitute directly, you just have to make something that's inspired by a local dish, but tastes nothing like it at all. I was craving laksa once, and ended up making pasta with a curry-flavoured cream sauce. Surprisingly, it actually tasted pretty good, though, to be fair, it tasted absolutely nothing like laksa.
Thus, just as I headed to bed early early this morning, I made myself a Chicago-style, chai tow kway inspired dinner.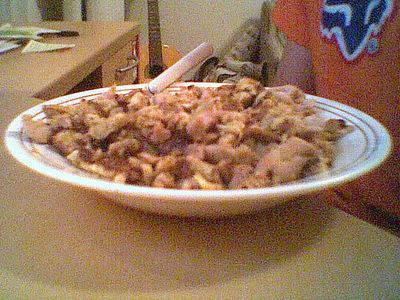 Naturally, I had to substitute all the ingredients I couldn't find, which were numerous. I ended up using egg-soaked bread instead of the whole normal cakes you get. I know, some of you are saying that this would probably taste like shit, but you are wrong. It tasted ok. I also had some canned 'chinese radish' that I had procured in chinatown. That served pretty well in the concoction. As for the shrimp, ah, well, when there's no shrimp, I suppose chicken will have to do, right? Right. In the end, I had a plate of this nonsense, and decided to eat it.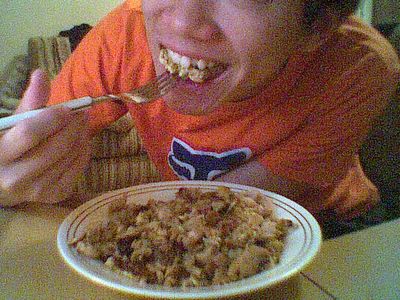 Ultimately, it tasted pretty decent, I figure, though, to be fair, nothing like chai tow kway. It was probably closer to roti john (which I actually enjoy). I ate it with thai chilli sauce and ketchup. It might not have been hawker centre standard, but man, it sure beat MacDonald's.
Today's Blog Babe:
Japanese Barbie
.