So, having graduated on saturday, I met my parents at the airport on sunday afternoon. As it stands, I have my parents, my pseudo-godparents, my brother, my sister and my godsister all sleeping in my bedroom and living room. Having bundled them off to the museum of science and industry for the afternoon, I finally have a good half an hour with my faithful computer to shoot off a blog entry before we head for the peaceful little town of Terre Haute, Indiana. Readers of my old blog will remember this as the land of corn and soy beans, and not much else. It's recommended for a laid back couple weeks of daily trips to Wal-Mart, and not much else. If you like Wal-Mart, I guess it's not a bad place.
After living alone for so long, though, it's hard to have your parents over. Seriously, it's like the police are here, you know?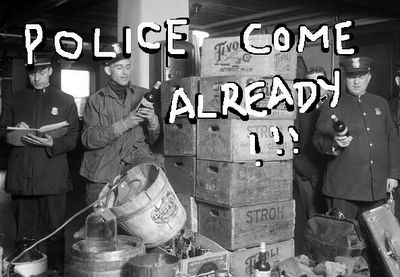 Gone are the ciggies (though, to be fair, I kicked smoking a while ago), gone is the mountain of alcohol, gone are the late night sexy, sexy parties. I can't even sit around and play winning eleven all day. Hell, even blogging is hard. Wah, life with the police - it's hard. Somehow, though, given that they're family, I guess it's alright. My parents decided to come in to chicago a full day after my graduation. Given that I don't have a stinking camera (other than my wonderful webcam, which is totally useless and produces stunningly pixelated pieces of trash), I had to rely on my good buddy Andy to take a picture for me. For your voyeuristic pleasure, let me present my only goddamn graduation photo:
Naturally, though, my parents, being Asian, also insisted on taking a whole set of pictures - two days after my graduation. Today we did the normal parental tour of the campus thing, except I had to wear my graduation gown, and feel vaguely like an idiot. Ah well, I figure that's cool, too. Given that I spent a good 38 dollars on the damn gown, I might as well get a little bit more mileage out of it, right? After today, the silly thing is probably headed for a long, long, time spent in the back of a dusty, dusty wardrobe. At least it got worn more than once, I figure.
Anyway, thanks to all of you who've still been reading this blog, even though it's getting dreadfully boring, and I've been so negligent in maintaining it. Things have been hectic around here, but I'll be able to sit down and write shit eventually, I promise. It's great hearing from all 6 (or 5, or 4) of you who left comments, too. You guys are cool. I'll be back in Chicago on the 24th, but you know me - I'll try to check in when I can, yeah?
See y'all later.
Regards,
J.
Oh, by the way, give you all blog babe today:
friends don't let friends date mullets
(whatever the hell that might mean); I like this livejournal for some reason, and I don't usually like livejournals. Therefore, this site must be at least ok. That is all.