So, the other day I took kenny sia's increasingly popular
singapore blogger
quiz. I'd been checking comments on my blog in my retreat, and I got a couple (meaning, one) comments (ok, fine, i got one
comment
) from this guy saying something like 'I TOOK KENNY SIA'S QUIZ AND HE SAID I'M YOU'; it was the sort of dumbfounding comment that makes me wonder about parallel universes, before I realize that it's actually referencing an internet quiz.
Somehow, though, this quiz was different. Why? I'll tell you why.
1) Kenny Sia is a funny guy. Everyone says
Kenny Sia
is a funny guy. You know what? Kenny Sia actually IS a funny guy. I had to say it so many times because I resent people being funnier than me. THE BASTARDS! WHY ARE YOU GUYS FUNNIER THAN ME? FUCK YOU GUYS.
2) I am one of the possible answers. How kick-ass is this? Haven't you ever wanted a quiz where people can say 'hey, I'm you?' Naturally, I had to go and take the test and see if I would be me. I've always wanted to be me, I hear being me is kind of cool.
OK, so I went to take the quiz, and lo and behold, it pronounced me Mr. Miyagi!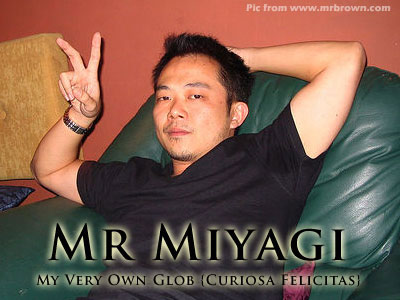 I figure, you know, being Mr. Miyagi is pretty cool. He's a cool blogger. Everyone seems to be going on about how cool he is. But, you know, I'm cool too, and I like being me. I clicked the 'back' button, and filled out a couple questions different. Lo and behold, I got: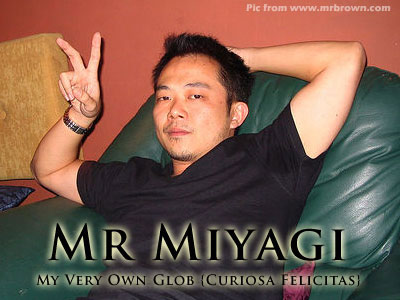 I tried it a third time. Still Miyagi. Maybe I wasn't changing enough answers. I revamped all my answers, thinking long and hard about what Kenny would think I was like, and I came out...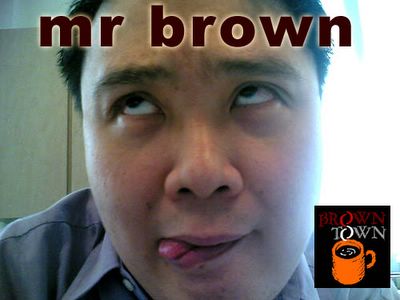 By now I was frenetic. I changed answers like mad, shifting things here and there - kenny should know I have a shitload of music on my computer, he should be able to guess I was born on or around 81, and perhaps he would know that I thought episode 3 sucked. I changed all the other answers around, then I found that suddenly I was...
Ok, actually first I got
finicky feline
, but then that was such a freak incident that somehow, when I decided to write a blog entry about this fiasco, I couldn't get myself as a result.
Finally, I tried to get myself, the old-fashioned way. I read entries written by people who had
gotten
results
proclaiming
them
'big fucks'; I read the description Kenny wrote of me. I read a whole bunch of stuff, and contrived to get the answers just right, so I'd get to display a sticker saying that I was me, so that I'd pass Kenny Sia's newly given identity test, so that I could say, damn it, I'm the real big fuck.
After all my effort, I came out
xiaxue
. Damnit Kenny, I give up. What do I have to do to be me?