The last couple days have been pretty hectic, but, like I said yesterday, I'm finally back in Singapore. Toronto was awesome - my friend and I explored the Toronto Islands south of the city, and ended up hitting the beaches. As we walked, we suddenly saw signs for a 'clothing optional beach', and decided we had to check it out - you know, research purposes and all. We walked down the beach, then we walked some more, then we walked some more, but there was no 'clothing optional beach' in sight. Eventually, about a thousand years later or something like that, we finally found the beach, and discovered it was filled with wrinkly old men. It was not a pretty sight.
Following this, we discovered the value of signs. This sign probably means 'danger, slippery'.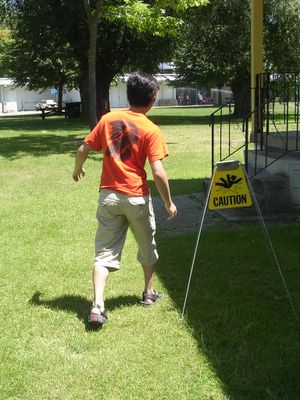 Man, that grass sure was slippery.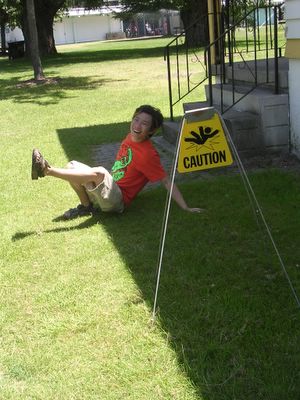 After this, we were very tired. Given that we are two Asians who were in a foreign city, we had to take pictures, right? We were super tired, though. Thus, we ended up taking lots of pictures of the sky. From benches. See, how artistic!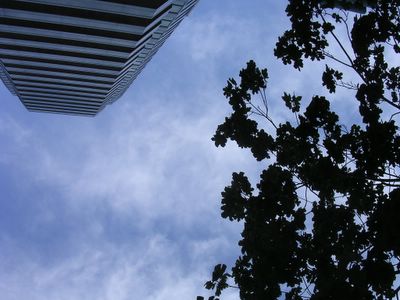 We took many, many pictures like this.
That's pretty much all we did in Toronto. I mean, there was other stuff, like walking, and eating, and seeing stuff, but hey, you can refer to my
last post
about Toronto if you want to know more about the city.
Before I sign off for the day, though,
Jess
pseudo-requested creepy pics. Seeing as to how she was not in Toronto and also gave me her address, I had to go take pictures of her house. Creeepy.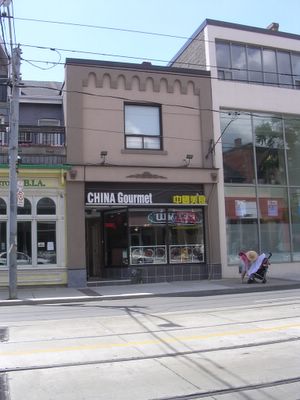 Yes, she lives in a restaurant. I suspect she's secretly asian.
Tomorrow I'll tell you all about Istanbul; as for today, I've realized I'm a lot more idle in this country. I brought a shitload of dirty laundry home, then I realized that I wouldn't have to wash it - we pay the maid to do that stuff. I went to Adam Road to eat Prawn Noodles, and was going to clear my tray, but then I realized that they pay the sanitation engineers to do that. To stop myself from going crazy, I decided I would cook dinner, so I'm off to do just that. Later, y'all.